Tickets for Upcoming Shows
Tickets
Two friends use the same pseudonym ("Ernest") for their on-the-sly activities. Hilarity ensues.
Performances: Nov 6–21
Ticket Prices:
Adults – $15
Student/seniors – $12
Group discounts are available for 8 people or more – email
groups@theatreatfirst.org
Buy Tickets in Advance at Brown Paper Tickets!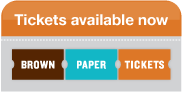 If you would like to reserve your tickets now and pay at the door, please use the form below. Tickets at the door may be purchased with cash or a major credit card.